Resilience. Your insurance in a chaotic world. How resilient are you? Find out, for free, in 3 minutes flat.
Complete our quick assessment and get your Neurozone® Resilience Index (NRI) score. The NRI is a scientifically verified measure of how resilient an individual is.
You will need to create a free account, or simply sign in if you already use our app or if you have signed in to do an assessment before.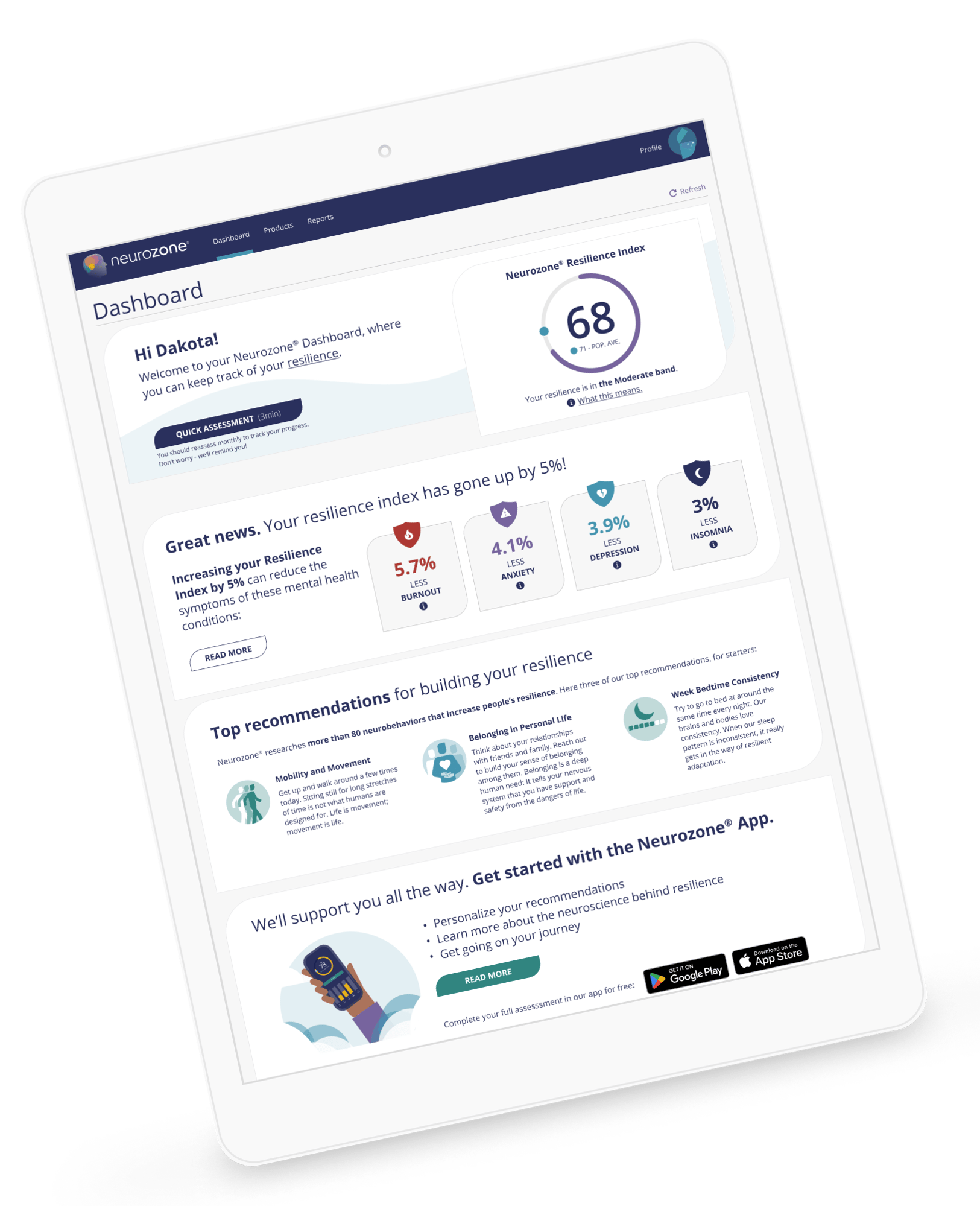 Embark on a journey of holistic well-being and peak performance with Neurozone®
Revolutionize the way you approach movement, energy, work, relationships, learning, and your mental health.
In a world where people are struggling with:
Neurozone® is here to make a difference. We bring you a scientifically validated method to follow to increase your resilience and to protect you.
Everything begins with awareness
Assess yourself for free to find out how resilient you are right now. The Neurozone Resilience Index (NRI) is a scientifically verified indicator of your resilience: your dynamic capacity to withstand breakdowns, overcome setbacks, and adapt.
Get our top universal resilience-building recommendations
Based on years of ongoing research, and continuously updated as we gather more data from people across the globe, these are the behaviors that have the greatest impact on the most people.
Check in with yourself once a month
Learn how much your increased score protects you against burnout, anxiety, depression, and insomnia.
Explore the neuroscience behind it all
Subscribe to our app to get resilience-related insights and learnings, or register for our online High Performance Course.
Ready to become your best self? Embark on a deeply personalized journey with the Neurozone® App.
Want

to go all the way? Start your personalized journey today with the Neurozone

®

App.
Prevent burnout
Build resilience
Unlock high performance