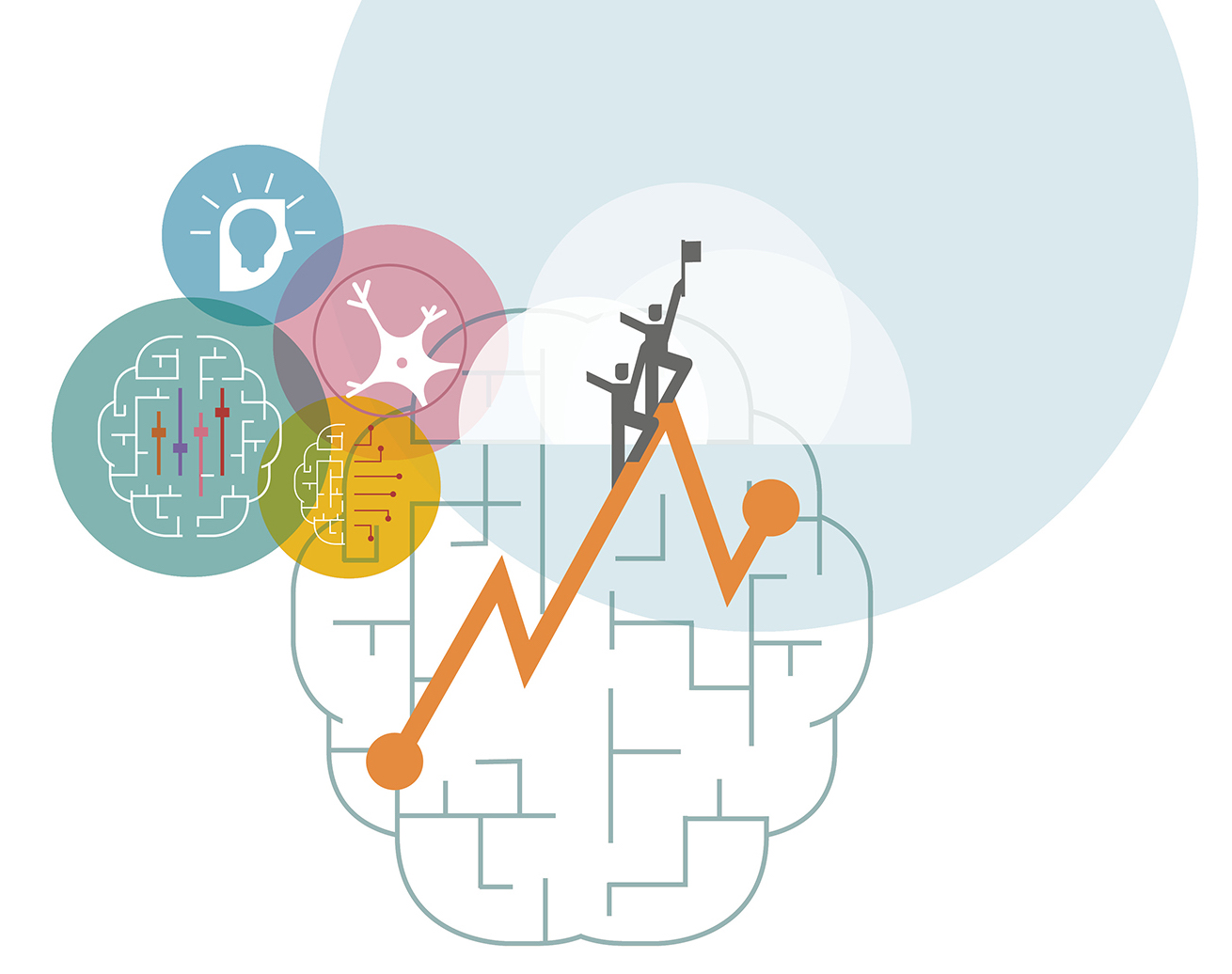 Pioneers of the Behavioral Code that enhances resilience and unlocks high performance

A dynamic system that is:
in tune with trends across the world,

tailored to your individual case, and

backed up by established neuroscientific recommendations.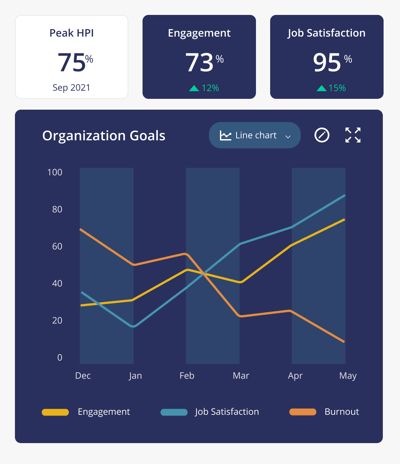 A trusted, comprehensive algorithm
The Neurozone® system looks at multiple neuro-behaviors that both independent science and our statistics have identified as influencing Resilience and, as a result, the capacity for High Performance.
We apply our algorithms to your neuro-behavior scores and rank them according to the highest impact they will have on your Resilience and High Performance capacity for the lowest amount of energy required from you to cultivate these behaviors.
Incorporating global trends
Our system considers the dataset of all of our users across the globe to determine which neuro-behaviors tend, overall, to have the greatest potential effect in anyone's optimization journey.
The ranks of the neuro-behaviors in this global system change over time as new data comes in and as the conditions of the human landscape shift.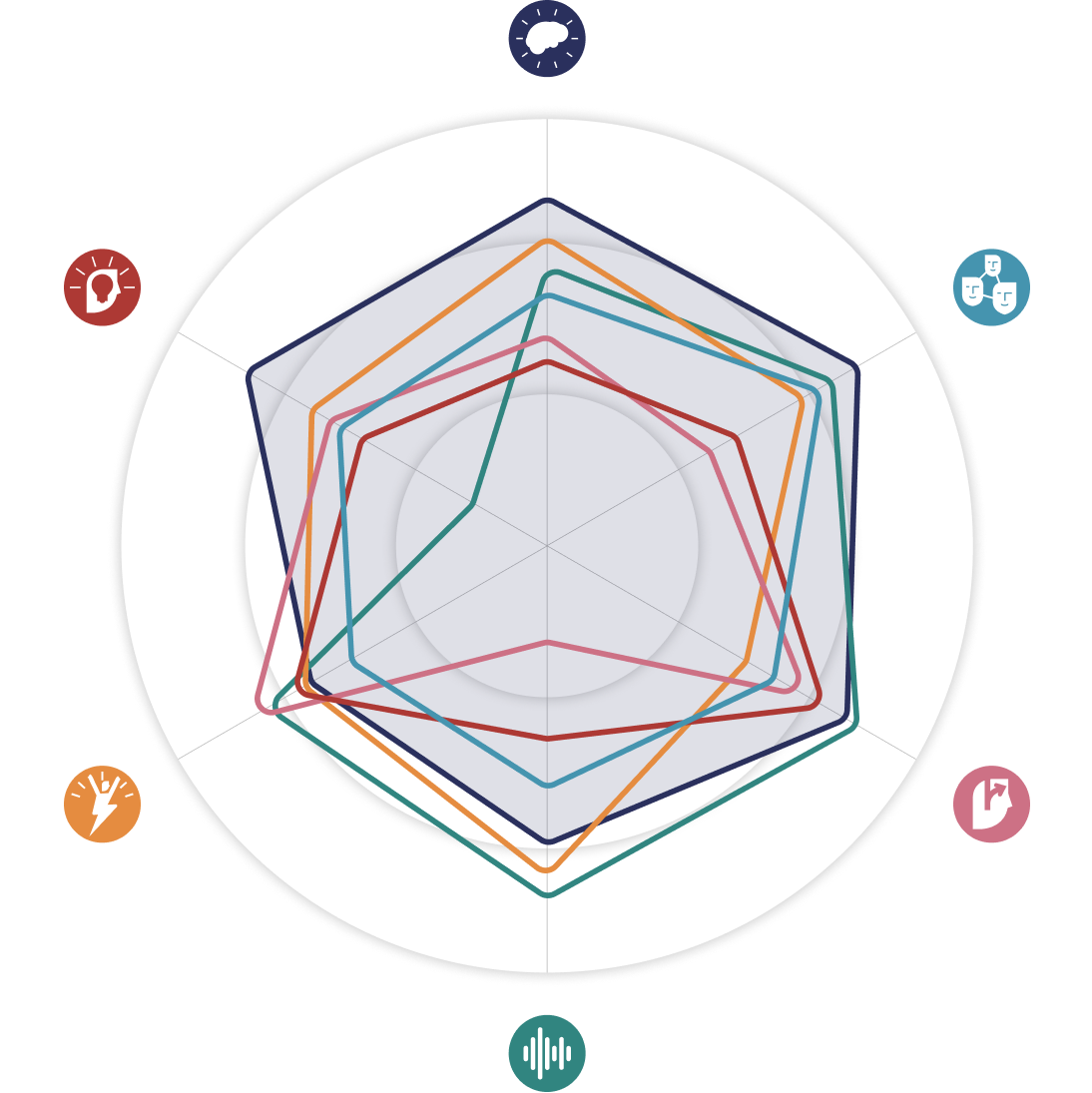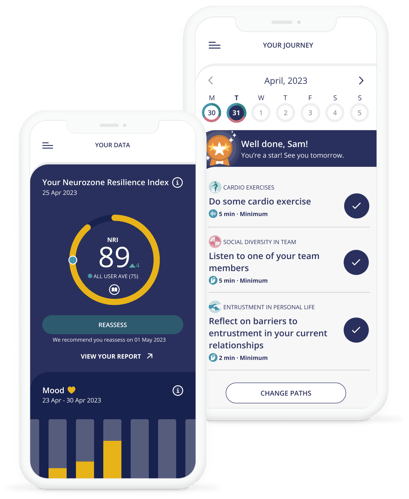 Personalizing your Results
Our system then compares your personal assessment answers against the global ranking of neuro-behaviors. This provides you with neuro-behavioral recommendations that are uniquely fitted to you, every time you assess yourself.
All of these recommendations are linked to increasing scores on our peer-reviewed Resilience Index - a strong and valid measure of human resilience.
Our Scientists
We combine our respective insights to create an interdisciplinary scientific juggernaut.
Our team at Neurozone® is made up of scientists with diverse expertise in the broad field of neuroscience:
Our team has trained, worked, and conducted research at reputable local and international institutions, and we have authored several peer-reviewed publications in our respective disciplines.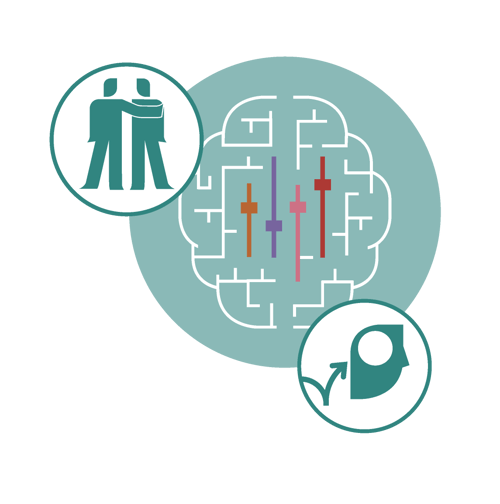 Staying true to science drives everything we do
From this background of academic and institutional experience, our team is committed to upholding scientific integrity across all of our products. We also appreciate that delivering on Neurozone®'s principles of excellence and empathy means making science accessible to the people it benefits. So, simplifying accurate science for our clients is at the heart of the team's agenda for building human resilience and unlocking high performance.
A selection of our science
Peer-Reviewed Paper
As part of our endeavor to build resilient and high-performing individuals and teams, we spent the past four years developing and validating the Resilience Index in partnership with the University of Cape Town and Tshwane University of Technology.
It is a reliable, valid measure and a paper outlining its development and validation has been published in the accredited journal, the International Journal of Testing.
The Resilience Index lies at the heart of our products. We also continuously curate the most recent and cutting-edge science in our fields, and beyond, to inform our research projects, our publications, and ultimately, our products.
The development and validation of the Resilience Index
This index highlights three novel findings. Specifically:
It encompasses existing theoretical understandings of resilience but also includes two novel components: early-life stability and toxic stress.

The index applies to individuals from high-, middle-, and low-income contexts.

It is the first to develop unique cut-off scores that classify individuals into low, moderate, or high levels of resilience.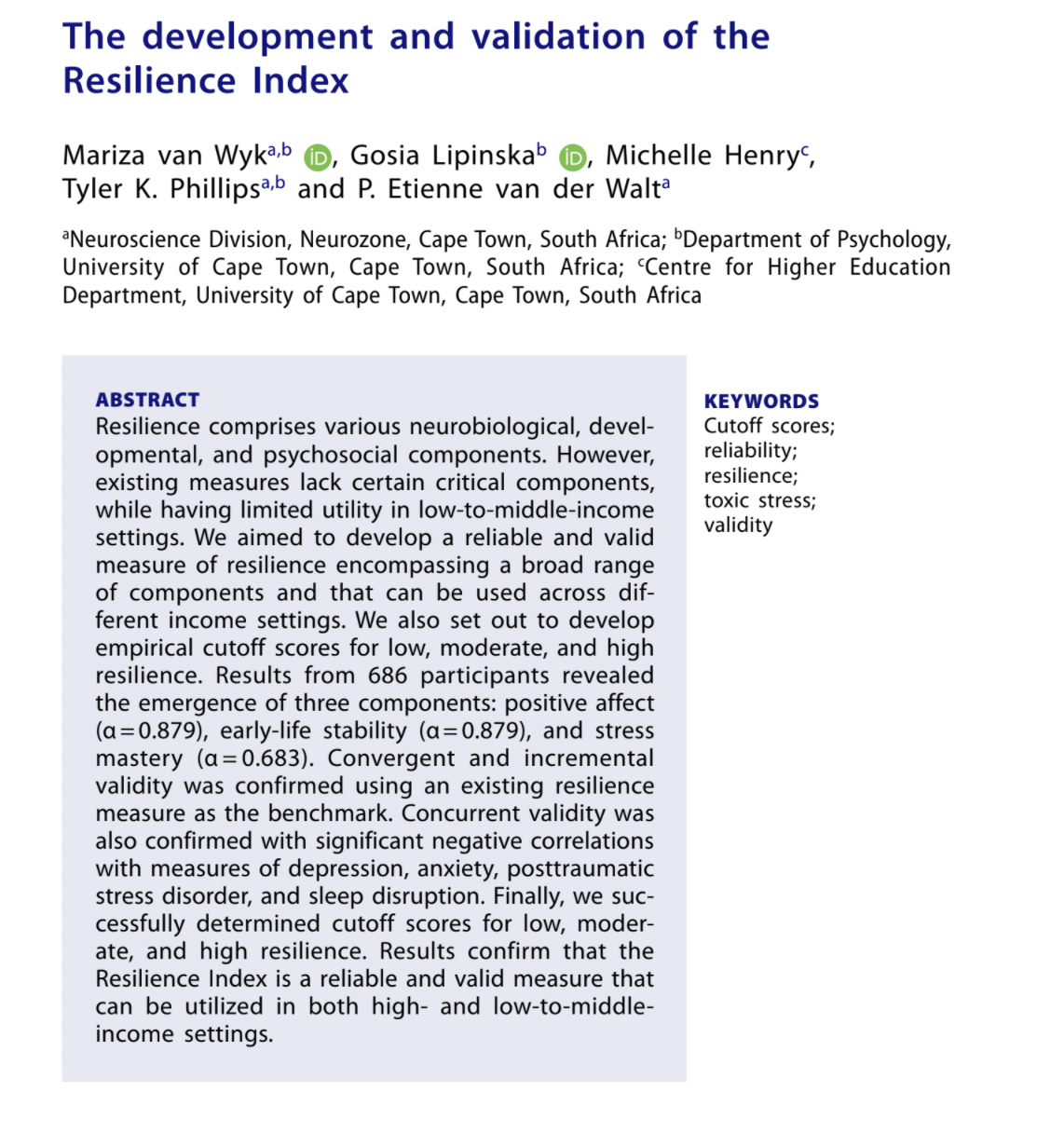 Peer-Reviewed Paper
This study investigated the relationship between the non-cognitive factor "resilience" and student success (academic performance, turnover intentions, brain-body optimization) among South African university students.
We identified the behavioural predictors that underlie resilience and outline a framework for implementing behavioural interventions to enhance resilience and increase student success.
The relationship between resilience and academic success among a sample of South African engineering students
Results revealed:
Significant positive relationships between the Stress Mastery and Positive Affect components and academic performance
A significant negative relationship between Positive Affect and turnover intentions

Significant positive correlations between the brain-body optimization score and all three components of resilience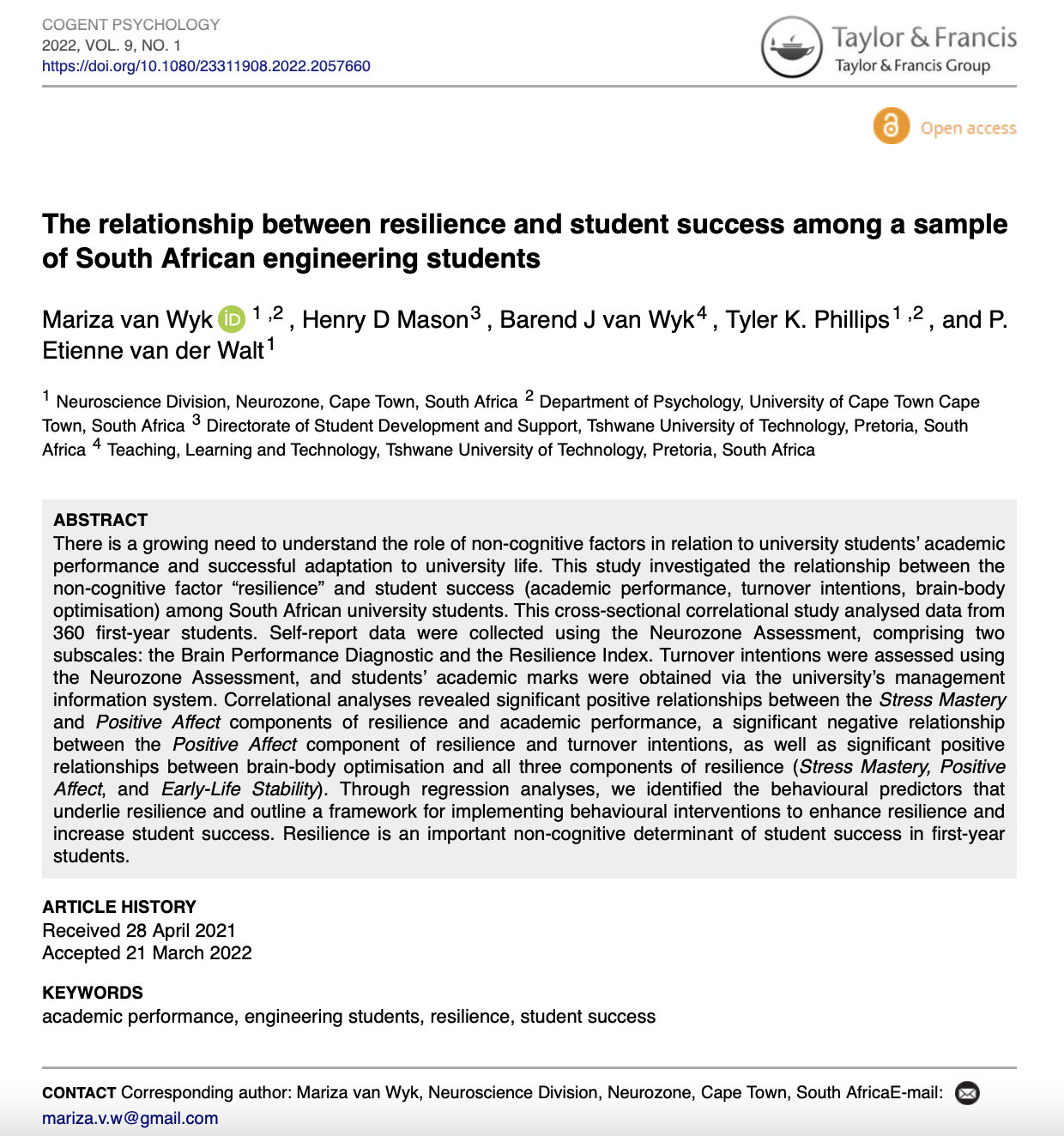 Our Science Partners and Affiliations include
Prevent burnout
Build resilience
Unlock high performance